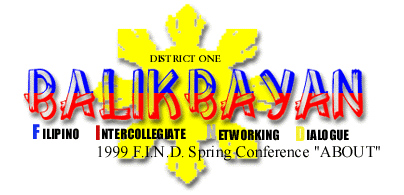 "ABOUT F.I.N.D."
HISTORY
MISSION STATEMENT
SEVEN DISTRICTS
A BRIEF HISTORY OF THE F.I.N.D.:
Important developments have taken place in the East Coast's filipino youth community within the past eight years. Filipino college students have developed an ethnic consciousness apart from the identity imposed on them by their parents. the formal ratification of the Filipino Intercollegiate Networking Dialogue (F.I.N.D.) in Cambridge, Massachusetts on April 11, 1992 was a significant step in the youth movement. the organization was founded by students, for students, on their own terms, and may thus serve a special role on the East Coast.
Filipino campus groups have been flourishing at universities for quite some time, with the largest growth occurring in the mid-1980's. It is clear that then and now, we have established a need and a want for learning about our heritage and ourselves. An explanation is the ever increasing presence of Filipinos in East coast institutions - children of the early influx of the third wave of Filipino immigrants of 1965. It was clear that the students had a desire to explore their cultural identity; however, some groups failed because of small numbers of Filipinos at their respective schools. to keep the activities flowing, informal networks were formed among many eastern cities. Intercollegiate networking breathed a new life into many organizations that needed inspiration to survive and move on.
The Filipino Intercollegiate Networking Dialogue emerged at a dinner, sponsored by KASAMA, at Yale University in April of 1991. College students from the northern seaboard came together for a conference. They discussed the collaboration of a formal network that would tie together smaller networks in the coastal regions. A group of students volunteered to form the East Coast Network of Colleges.
The Steering Committee (SC) met several times in New Haven, and in New York, prior to the second conference that was held at New York University. A constitution was created incorporating the SC's vision of an organization that would accommodate the Filipino Students needs. In cooperation with SC NYU's International Filipino Association structured the conference to further networking efforts and facilitate the eventual ratification of a Regional Network. The name FIND was kept to show support for a continuing process of student ratification.
An official SC was elected with representatives from each of the six established districts. The SC established the objective of finishing a constitution that would be ratified in Cambridge, Massachusetts. The constitution and bylaws of F.I.N.D.. were completed in time for the announcement of the 1992 F.I.N.D.. conference that ws held in Boston.
This marked an important step in the evolution of the Filipino Youth Movement. In the spring of 1993, F.I.N.D.. moved south to the nation's capital. The DC conference further legitimized the effectiveness of F.I.N.D.. Alliances were made among students nationwide from the East Coast to the West Coast; and with Filipino professionals. The foundation of an intercollegiate network, linking information from over 70 schools, works to dispel the myth that Filipino youths are apathetic about their heritage and future.
The organization calls themselves the Filipino Intercollegiate Networking Dialogue to emphasize that unity is an ongoing process of communication and collaboration. this grass-roots network exists on the basis on sponsoring a yearly conference and dialogue. Conferences are three days of events and involving workshops facilitated by professional speakers. In the past, speakers have inspired and challenged our minds by articulating successes and failures, visions, and experiences. Dialogues preface conferences to allow more time for networking, so we can learn and grow from each other. Through such interaction, we hope to gain insight into our Filipino heritage, our present-day challenges, and our future directions. However, we still have a long way to go to guarantee the effectiveness of F.I.N.D..


To offer a network of communicating and interaction among various Filipino student organizations througout the United States.
To foster the preservation and encourage the promotion of Filipino culture, values, and ideals.
To serve as a forum for discussion, education, expression of ideas, hopes and concerns, for Filipinos, Filipino-Americans, and all who wish to know more about Filipino and Filipino-American issues in general.
To increase awareness of issues pertinent to te Filipino-American commnity.
To increase awareness of issues pertinent to the Philippines.
To offer support to Filipino and Filipino-American college students studying at higer institutions of learning throughout the nation.
District 1: Eastern New England

District 2: Western New England

District 3: Metro New York

District 4: Upstate New York

District 5: Pennyslvannia/New Jersey Area

District 6: DC Metropolitan Area

District 7: Southern Virginia
---
Managed by: Ray Reyes, Kathy Yao, and Mike Bacarra
Brought to you by: the letter D, and the number 1.
Questions or comments: d1web@aol.com