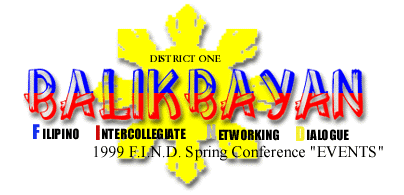 "EVENTS"

EVENT DESCRIPTIONS
SCHEDULE OF EVENTS
PERFORMERS

Filipino Movie Festival 3/25/99:

A mix of documentaries and movies, which are affiliated with Filipinos and/or the Philippines.

Friday Night Fair 3/26/99:

A lil sumpin' sumpin' for everyone!!! For y'all ambitious-peeps, there will be an informal career fair from a plethora of fields, including computer consulting, health care, and music industry. And for a lil somethin' to take home to mama, you can browse through various vending tables, carrying today's styles, food for your brain, and other various lil keepsakes.
For the aspiring poets and writers, express yourself at Open Mic, emceed by Kiwi, Faith Santilla, and Dawn Mabalon. Or, view contemporary artworks by your kababayan, on display all nite long

Breakin and DJ exhibition/competition 3/26/99:

Raise the roof at the breakin' exhibition and competition, performance and judging by Full Circle Crew. Then, bring the house down at the DJ exhibition and competition, featuring an exhibtion by Interboro Rhythmik Turntablists (IRT) and judges DJ Icey Ice, Symphony, (also seen in Beats, Ryhmes, and Resistance) from LA, and Boston's very own DJ Roy Barboza from Jammin' 94.5.

Cultural Show "Isang Bansa, Isang Diwa" 3/27/99:

Celebrate the Filipino culture as the districts come together to showcase their cultural pride. Performances are by D1, D3, D5, and D6. Special performances by Rich Acosta "Kuntaw Kali Kruzada" and Boston's Iskwelahang Pilipino.

Fashion Show 3/27/99:

Check out the latest in fashion, designed by Filipinos from around the world! D1's finest picked for your viewing pleasure. It is what you wear. It is the way you wear it. It is the ESSENCE of STYLE.

Celebration 3/27/99:

This will end the conference in a huge party with top DJ's from the east and west coast and Canada.

Filipino Mass 3/28/99:

There will be a Catholic mass held by a Filipino priest to celebrate palm Sunday.

Wednesday, March 24, 1999
7:00 - 10:00pm
FILM: Jose Rizal (premiere)
MIT, Building 10, Room 250
Thursday, March 25, 1999
5:00pm - 12:00am
REGISTRATION
Sever, 1st floor
9:00pm - 1:00am
Film Festival
Science Center D
Friday, March 26, 1999
12:00pm - 4:00pm
REGISTRATION
Ticknor Lounge
3:00pm - 12:00am
REGISTRATION
Lowell Lecture Hall
11:00am - 2:00pm
FILM: Jose Rizal
MIT, Building 26, Room 100
4:00pm - 5:00pm
WELCOME
Science Center B
5:00pm - 6:30pm
PANEL I: Relevance of History
Science Center B
6:30pm - 8:00pm
Dinner
Harvard Square Sponsor Restaurants
8:00pm - 11:00pm
Business fair & art show
Loker Commons
10:00pm - 1:00am
Breaking battle & DJ battle
Lowell House Dining Hall
Saturday, March 27th
8:00am - 1:00pm
REGISTRATION
Sever, 1st floor
9:00am - 10:30am
PANEL II: The Philippine-American War
Science Center B
10:45am - 12:00pm
SESSION I: Philippine Issues
Science Centers A, B, C, D, Lowell Hall, & Sever 113
12:00pm - 1:30pm
Lunch Break
Harvard Square Sponsor Restaurants
1:30 - 2:45pm
SESSION II: The Philippine-US Relationship
Science Centers A, B, C, D, Emerson 105, & Sever 113
3:00 - 4:15pm
SESSION III: Implications for & Instances of Activism
Science Centers A, B, C, D, Emerson 105, & Sever 113
4:15 - 5:45pm
PANEL III: Where Do We Go from Here?
Science Center B
5:45 - 7:00pm
Dinner Break
Harvard Square Sponsor Restaurants
7:00 - 8:30pm
*Cultural Show
Lowell Hall
9:30pm - 3:00am
Fashion Show & Celebration
Imperial Ballroom, Park Plaza Hotel
Sunday, March 28, 1999
11:00am - 12:30pm
Palm Sunday Mass
St. Paul's Church
1:00pm - 2:00pm
Speaker Brunch
Loker Commons
* The attendance at the cultural show will be capped at 400.

Kuya Tribe Productions
Established in 1995. The name "Kuya Tribe" originated when many of the original 5 members' neighbors only knew on Filipino word, "Kuya" (older brother) and began calling every Filipino on the block a "Kuya." Each member of the organization specialiazes in their own respective areas of the Club Music elements as their goal is to elevate blending and mixing, along with originality. They have been invited to spin at various clubs (Flamingo's, The Tunnel, and Metropolis) as well as colleges and universitites (Manhattan College, Drexel FIND '98, Stony Brook, St. Johns) in the New York City area.
Contact info:
pager: (917)-727-3326
bookings: (212)-604-4770
website: http://members.aol.com/ktpnyc

DJ Icey Ice
Isiah "Icey Ice" Dacio is an established multitalented radio personality on 92.3 The Beat LA. He can be heard on the "Saturday Night Live" from 6-7pm and every Monday through Friday during the 12 o'clock "Old School Lunch Mix" with partener Big Lez (Rap City/BET). He is involved in a variety of enterprises that contributes to his succesful career. His work ranges from hosting California's largest Asian entertainment promotion company "Legend Entertainment/21XL Events," making guest appearances and performing at competitions and exhitbitions for the reknown turntablist crew "The World Famous Beat Junkies," directing the exclusive "Global Record Pool," and contributing monthly columns for the independent nightclub resourc "Industry Insider Magazine." DJ Icey Ice stays true to his roots and continues his involvement with his community and his church, where he has been a Christmas Institute Camp counselor for the past ten years. As a Filipino-American, DJ Icey Ice strives to represent 92.3 the Beat's motto of "erasing the color lines" to the fullest, by proving that any individual, regardless of race and ethnic identity, given the opportunity, can achieve success.
website: http://djicyice.com
bookings: (310)-523-8376

Marie "Symphony" Dacio
Marie "Symphony" Dacio's turntablist skills and presence have brought about much respect and praise from those that have come to recognize her. A reknowned mixshow DJ for 92.3 The Beat LA and KPWR 106, she is also a member of California's largest Asian entertainment promotion company "legend Entertainment/21XL Events, and the World Famous Beat Junkies. Her impressive resume ncludes: 1994 Represent Competition Finalist, 1995 Vestax USA Competition - 3rd Place.
website: http://djicyice.com
Roy Barboza
Roy Barboza's unique blending/mixing style has brought him to the forefront in Boston radio. As the sole mixshow DJ for JAMN 94.5 Boston, and can be heard daily from 12-1 PM, and every Friday and Saturday night from 10:00 pm - 3:00 am. He is the resident DJ at Club vincents every Saturday night.
website: http://www.jamn.com
email: royb@jamn.com
RedHotDegree Entertainment
Established in late 1998, RedHotDegree Entertainment seeks to reward its audience to its fullest potential. Based in both Queens, NY and Boston, MA, they diligently work at impacting their respective urban contempory markets through mixtapes, promotions, and various club (Club Creations NYC, XVI NYC, Club Joy (Boston) as well as college/university (Brown University (ECASU '99), Boston University/Boston College, Northeastern University) events and appearences.
bookings: (617) 490-3886
email: redhotdegree99@hotmail.com
website: http://www.geocities.com/bourbonstreet/square/3504/home.html

---
Managed by: Ray Reyes, Kathy Yao, and Mike Bacarra
Brought to you by: the letter D, and the number 1.
Questions or comments: d1web@aol.com