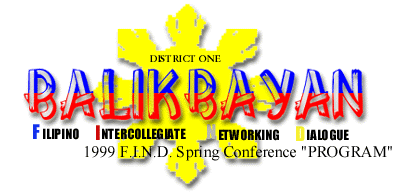 "PROGRAM"
AGENDA
SPEAKERS
AGENDA:
"BALIKBAYAN" intends to initiate a critical discussion on the subject of Philippine-US relations, its history and legacy. We will look at (1) current issues in the Philippines, (2) aspects of Philippine-US relations, with an eye to power (im)balances and the lingering efects of colonial policy, and (3) the implications for the Filipino-Americans have taken and continue to take inlight of the past one hundred years.
Session 1: Looking Backwards to Go Forward
This panel will lay the groundwork for material that we will discuss throughout the conference. The panel will provide a historical review of Philippine and Filipino-American history of the past century. Its concern will be with what this history means for Filipino-Americans: What is our historical inheritance as Filipino-Americans, what is its relevance to us, and what are its implications?
Session 2: Philippine Issues
This session will focus on current issues in the Philippines, with a special emphasis on the development of these issues over the past century. Issues such as economic development, political movements, and the status of Philippine culture and media will be looked at as rooted historically, as currently developing, and as continually evolving.
A. POLITICAL
B. ECONOMIC
C. CULTURAL
D. ENVIRONMENTAL
E. COMMERCIAL (Tourism)
F. REFORM MOVEMENT (?)
Session 3: The US-Philippine Relationship
The US-Philippine relationship is the focus of the third session. This session is concerned with examining the nature of what this relationship has been and what it now is. What are the power dynamics at work? How is power used? to what ends? Particularly, what have been the tangible consequences of the US-Philippine relationship, whether in terms of economic development, institutions, or sexual commerce (i.e. sex tours, mail order brides, etc.)?
A. THE SEX TRADE: Mail order brides, sex tours, and women's labor exploitation
B. AN AMERICAN PRESENCE: Visiting Forces Agreement (VFA), Asian Economic
Cooperation (APEC)
C. OVERSEAS CONTRACT WORKERS
D. LEGACIES: English in Philippine schools, Int'l schools, Filipino literary criticsm
E. NON-FILIPINO ALLIES: The anti-imperialist struggle taken up by non-Filipinos
Session 4: Implications for and Instances of Activism
What does the knowledge of the preceding panels point to? What are their implications for us? Moreover: What issues today are in need of collective action? What does effective activism look like? Session IV explores the reasons for activism, as well as features the many forms it takes within our communities.
A. WAKING UP FROM THE AMERICAN DREAM: community activism among new
working class immigrants and youth
B. WOMEN'S ACTIVISM
C. TOWARDS A MORE OPEN AND DEMOCRATIC PHILIPPINES
D. FILIPINO WORLD WAR II VETERANS
E. RETURNING HOME: Philippine education and exposure programs
F. CULTURAL AND ARTISTIC MEDIUM OF ACTIVISM
G. ESTABLISHING PHILIPPINE STUDIES

East Coast:
Speakers



Title/Organization



Boone Schirmer


Dorotea Mendoza


Loida Lewis


Sabrina Sandata


Eric Lachica


Malou Mangahas


Baltazar Pinguel


Elizabeth Fullon


Genera Banzon


Pat Ganio


Raul Rabe


Marilou Dias Abaya


Jesse Robredo


Adam Auriemma


Rodney Salinas



Kristin Hoganson


Yolanda Tsuda

- activist, author, Friends of the Filipino People
- activist, GABRIELA Network
- CEO, Beatriz Corporation
- artist, writer, Bamboo Girl zine
- director, American Coalition for Filipino Veterans
- Nieman Fellow at Harvard, editor-in-chief, Manila Time
- activist, AFSC
- University of Massachusetts/Amherst
- artist
- Chairperson, ACFV
- Philippine Ambassador to US
- director, Jose Rizal
- Former mayor of Naga City
- Masters candidate, Cornell University
- National Youth Director, National Federation for
Filipino American Associations
- Harvard University
- research associate, Reischauer Institute
West Coast:
Speakers



Title/Organization



Aqui Soriano


Vic Clemente


Becky Clemente


Papo de Asis


Lori Zabala


Fernando Argosino


Christine Leano


Jack de Jesus


Robyn Rodriguez


Edwin Habacon


John Eric Concordia


Patrick Ganio


Emil Guillermo


Annalisa Enrile


Liza Mazad


Neferti Tadiar


Faith Santilla


Lolita Lledo



Rachel Redondiez

- activist, Pilipino Worker's Center
- director, Pilipino Information Networking Services, PINS
- founding member, LORENAS
- artist/activist
- activist, BIBAK, Cordillera People's Alliance
- activist, Youth UNITE!
- activist, Project Against US Toxic Waste
- DJ, activist, SIPA
- community organizer, UC Berkeley
- SIPA, Tribal Pinoy
- activist, YSTAND
- chairperson, ACFV
- journalist, radio personality
- GABRIELA - Philippines
- GABRIELA - Philippines
- professor, History of Consciousness Dept., UC Santa Cruz
- activist, SIPA, League of Filipino Students
- labor organizer; Deputy Executive Director, Pilipino Workers Center
- labor organizer, HERE local 2
Philippines and Abroad:
Speakers



Title/Organization



Fr. Nico Bautista


Barbara Gaerlan


Antonio Tujan, Jr.


Abigail Fulgueres


Dr. Nicanor Tiongson


Mina Gabor


Amando Doronilla


Susan Quimpo


Jerry Barican


Rep. Miguel Zubiri

- activist priest
- Japan Center for Area Studies
- economist, IBON
- National Agrarian Reform Advocates
- Universtiy of the Philippines
- former secretary of Tourism
- journalist, Philippine Inquirer
- activist, educator, Tagalog-on-Site
- Spokesman for President Estrada
- Philippine Congressman

* List of 46 confirmed speakers, as of 2/4/99. Check back for updates.

Back to top
---
Managed by: Ray Reyes, Kathy Yao, and Mike Bacarra
Brought to you by: the letter D, and the number 1.
Questions or comments: d1web@aol.com